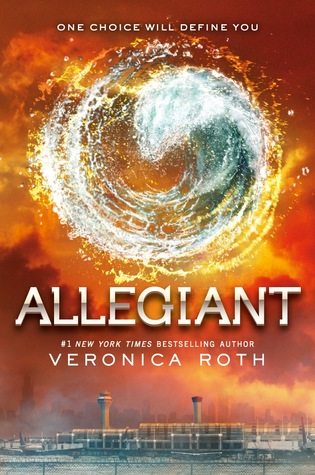 Title:
Allegiant
Author:
Veronica Roth
Series:
Divergent
Book #:
3
Publisher:
Katherine Tegen Books
Release Date:
October 22nd 2013
My Rating:
The faction-based society that Tris Prior once believed in is shattered—fractured by violence and power struggles and scarred by loss and betrayal. So when offered a chance to explore the world past the limits she's known, Tris is ready. Perhaps beyond the fence, she and Tobias will find a simple new life together, free from complicated lies, tangled loyalties, and painful memories.
But Tris's new reality is even more alarming than the one she left behind. Old discoveries are quickly rendered meaningless. Explosive new truths change the hearts of those she loves. And once again, Tris must battle to comprehend the complexities of human nature—and of herself—while facing impossible choices about courage, allegiance, sacrifice, and love.
My Thoughts
'Allegiant' was very different from its previous books, since it provided us with two different views - Tris's and Four's - which the author already prepared us for with the release of the retelling of 'the knife throwing scene' from Four's perspective -
Free Four
- and also because it was bittersweet to the end.
As we all know, Veronica Roth is not afraid to kill her characters, in fact she does it quite often through out this trilogy. Don't get me wrong, I actually enjoy this (wow can I sound any more like a psycopath?) but on this book it was simply heartbreaking. But we'll get to this in a minute.
Reading from Four's perspective was crucial to this book, not only because of how it ends, but also because it provide us with more information about this character and how he thinks. I liked this a lot, since I couldn't get the all story from Tris's perspective, especially when they argued or went through a situation together that always left me thinking of what was going through his mind.
I was so very excited to get to know what was going on outside the fence, but once I 'got' there I only wanted to go back inside of it. Knowing how the world outside was in this book, was as traumatizing to me as it was for the characters.
Uriah's death was devastating to me. He was always so nice and the way he dealt with the loss of his friends was so brave in my opinion. I got used to 'seeing' him around and when that freaking bomb blew him away I just could not deal with it. I just kept staring at the book with my mouth open waiting for the words to change and somehow erase that event from the book.
When his family unplugged him I almost cried. It was a very endearing moment when it happened.
Now, Beatrice's death... I didn't enjoy this. Not because I disagree with the decision of the author on doing it, but because I don't think it got the attention it needed. I expected it to be a magnificent death, with some very exciting and brilliant events happening afterwards and it did not live to my expectations.
This being said, I liked the fact that the main character died here (again, can I sound more like a psycopath??).
All in all, 'Allegiant' was a very good book and a somewhat good way to end this series. Let's end this review with one of my favorite quotes from it:
"There are so many ways to be brave in this world. Sometimes bravery involves laying down your life for something bigger than yourself, or for someone else. Sometimes it involves giving up everything you have ever known, or everyone you have ever loved, for the sake of something greater.
But sometimes it doesn't.
Sometimes it is nothing more than gritting your teeth through pain, and the work of everyday, the slow walk toward a better life.
That is the sort of bravery I must have now."