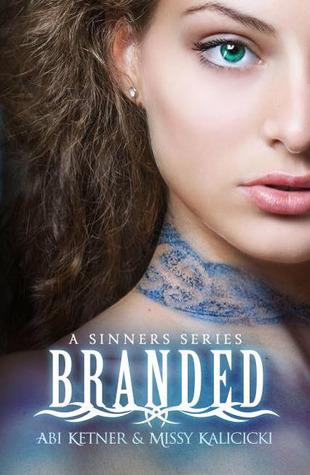 Title:
Branded
Author:
Abi Ketner & Missy Kalicicki
Series:
Sinners
Book #:
1
Publisher:
Abi and Missy Books
Release Date:
February 18th 2014
My Rating:
Fifty years ago the Commander came into power and murdered all who opposed him. In his warped mind, the seven deadly sins were the downfall of society. He created the Hole where sinners are branded according to their sins and might survive a few years. At best. Now LUST wraps around my neck like blue fingers strangling me. I've been accused of a crime I didn't commit and now the Hole is my new home.
Darkness. Death. Violence. Pain.
Now every day is a fight for survival. But I won't die. I won't let them win.
The Hole can't keep me. The Hole can't break me. I am more than my brand. I'm a fighter. My name is Lexi Hamilton, and this is my story.
My Thoughts
Branded was quite surprising for me, in quite a positive way. At first it was kind of difficult for me to read since it was so incredibly filled with violence that I didn't thought I was going to enjoy it at all. But, I ended up liking it!
Lexi, the main character, started as quite submissive, not because it was a caracter flaw but because she needed to preserve her life at all costs, since in the Hole all deaths are, well, spiced with a bit of torture.
When it comes to the romance in 'Branded', I found it quite predictable and cliche but in the end I could not think of Lexi without thinking of Cole and of course Zeus.
Talking about Zeus, why is it that I always get incredibly attached to the animals? Seriously, there was a moment there on which I thought Zeus was gone and all I could think was 'Oh Lord, please let Zeus be ok!'.
The plot for this book was quite interesting, even though it started kind of slow and the violence was a bit too much, as I progressed in it, it became more and more interesting and I found myself wanting to know what happened next with a very high level of anxiety.
This book was very well written and you can't tell that two people wrote this, since it all comes together so perfectly that it seems like it came from one mind and one mind only.
All in all, I liked it and I will read the future books in this series.