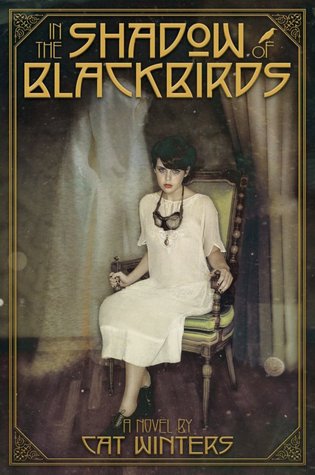 Title:
In the Shadow of Blackbirds
Author:
Cat Winters
Publisher:
Amulet Books
Release Date:
April 2nd 2013
My Rating:
In 1918, the world seems on the verge of apocalypse. Americans roam the streets in gauze masks to ward off the deadly Spanish influenza, and the government ships young men to the front lines of a brutal war, creating an atmosphere of fear and confusion. Sixteen-year-old Mary Shelley Black watches as desperate mourners flock to séances and spirit photographers for comfort, but she herself has never believed in ghosts. During her bleakest moment, however, she's forced to rethink her entire way of looking at life and death, for her first love—a boy who died in battle—returns in spirit form. But what does he want from her?
Featuring haunting archival early-twentieth-century photographs, this is a tense, romantic story set in a past that is eerily like our own time.
My Thoughts
The backover of this book says:
"(...) I flipped myself over. Opened my eyes. And found a dead man next to my bed."
This was what got me into this book and to be honest I only noticed the ghost on the cover a few days after I bought it, that's how distracted I am.
'In the Shadow of Blackbirds' is an amazing book. Touching, scary and incredibly sweet. I also found it empowering somehow, mostly because the main character, Mary Shelley, was so strong that she became inspiring to me.
As I went through the book, I kept thinking 'How can she do this? How can she possibly live through so many hardtimes?'. Let's be fair though, she did give up a couple of times only to either change her mind or to be convinced by someone she loved deeply to come back and get things right. Still, I don't think I could have gone through what she did.
The flu got me paranoid, everytime I heard someone sneeze, either on the bus or on the street, I would feel a chill running through my spine... That's how well, the author implements the influenza in this book.
The plot, the characters, everything about this book is remarkable. I don't think I'll forget this book anytime soon.